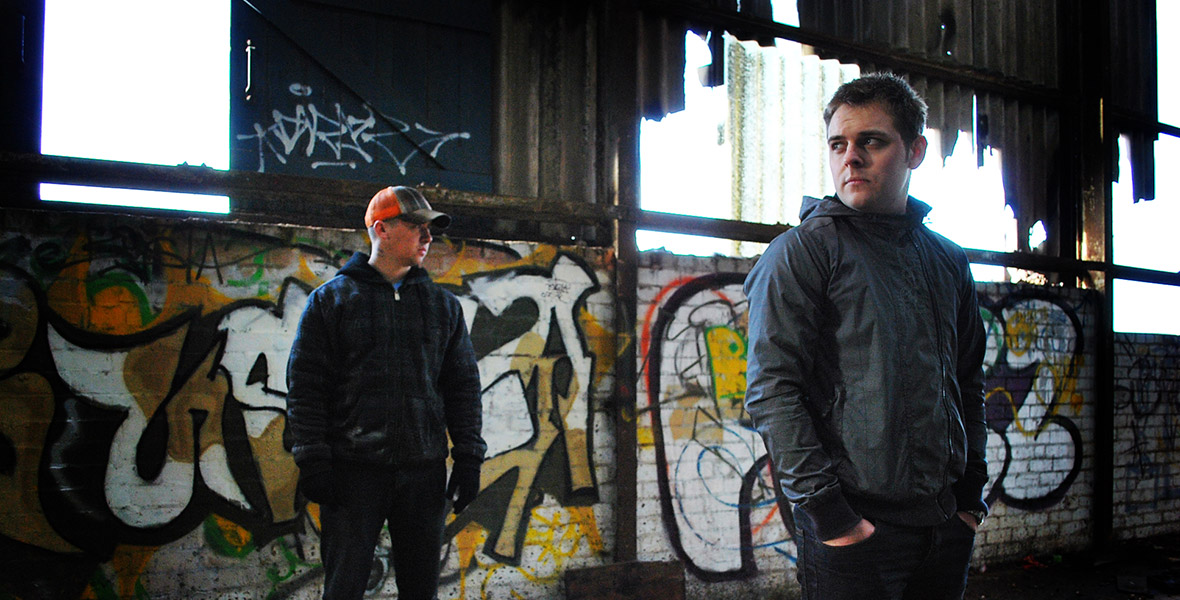 How did you two get together and start making music?
We started making tunes together about 2-3 years ago. We were both local to each other and both of us were producing drum & bass and DJing at local small events. I started to go to Lee's house and make tunes and mess around with certain programs so we just decided to get on the beats together and here we are now.
Who would you say your biggest influences are?
Musically the major players in the jump-up scene have always influenced us. Hazard, GDub all the big players. Also people like Goldie, SPY and Mutated Forms. There are too many to mention to be honest but those are just a few of the names that first spring to mind.
How would you describe your sound?
A lot of it is jump-up influenced. We've always enjoyed making the grimier, nasty stuff although we do dabble in a lot of jungle, liquid and other styles. Just recently the halftime / drumstep thing has taken off which has obviously been good for us..
How long have you been with Technique?
We have been with Technique since November 2009 so it's coming up to a year and a half now.
Tell us about your most recent release
Our most recent release is Mr Blonde with Time To Burn on the flip. Mr Blonde kind of follows the same kind of formula as some of our older drumstep/halftime tunes like the Return, Gunman, etc. It's got that kind of screechy 3rd Degree Gurns bass that we were using a lot back when we made that tune.
Time To Burn, on the other hand, is kind of how our sound has evolved over the past year. The drums are much more energetic and the overall sound has a lot more width if I'm honest.
What are you currently working on in the studio?
Lots of drumstep and lately we've made a hell of a lot of dubstep too which you will hopefully hear soon. We've started using a lot of new software too – new synths samplers etc..
Who would you most like to collaborate with?
Definitely want to collab with some dubstep producers this year. Any of the Circus Records camp would be great to be honest. Also vocalists like Jenna G, etc. We just haven't got round to making any ideas for vocalists yet but I'm sure it will happen in the near future.
Whose beats are you listening to at the moment and who are your 'ones to watch'-producers, vocals or otherwise?
There are quite a few that are coming with some great tracks at the moment. Mutated Forms' darker stuff is wicked. Tyke from Grid is coming with some big big beats too. Always excited to see what people like Funtcase and Doctor P are coming with next too. Their tunes are pretty heavy at the moment.
What recent gigs have you done?
Recently we just got back from Belgium, the night before we were at Interface Derby with Subfocus and a few more. Before that I think it was Oxford with Dillinja, Hazard etc. All the gigs we're playing recently are quite big so we're grateful for that.
What has been your best gig and why?
It's hard to pick just one to be honest. A few that stand out are Selecta DNB Oxford last year. Vibes were good down there and we were well looked after. Also Interface last year when we played just before Chase & Status was pretty wild. There are loads, cant think of a bad one to be honest.
What are you most looking forward to in 2011?
Making more tunes, learning more stuff and making lots of new types of music. Anything goes!
---